Location
Rocks 4H Camp, 2 Cherry Hill Road, Street, MD, USA
Date
September 30, 2017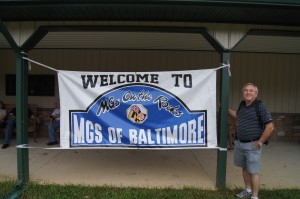 What was once just a gathering of a few local members for a picnic is now one of the premier annual events for all British car owners in the Mid Atlantic Region. Each year we have over 200 cars with MGs of all Models and 8 classes of other British Marques. Popular vote balloting by the car owners is from 10:00 until 1:00 p.m. and awards are given out soon after 3:00 p.m.
Winners, chosen by car owner peers, receive awards at their cars as the crowd walks around the show field at the end. If you place check our website for the picture!
Directions: From I-95 North of Baltimore take exit 77B, follow Rte. 24 West 13 miles, briefly merging with and then leaving US 1, then later crossing MD 23. After 13 miles, turn right across the one lane bridge at Cherry Hill. Pull into the 4H Camp and MGs on the Rocks is on your left. Look for MG Octagon signs enroute. You can set your Navigation system to 2 Cherry Hill Road, Street, MD 21154
MGs on the Rocks
If you love British cars this is the place to be the last Saturday in September. The Rocks State Park 4H Camp is an excellent country setting in rural Harford County, MD. Bring a picnic basket or purchase your lunch at the show and join the MGs of Baltimore for what has always been a superb show. Bring your parts shopping list for your ongoing renovation projects or your Christmas wish list for shirts and books. See you at the Rocks!
6 Members Attending this event ↵
Want to add yourself to the list of attendees?
Please Sign In — or Register a new account (it's free!)
event/1680