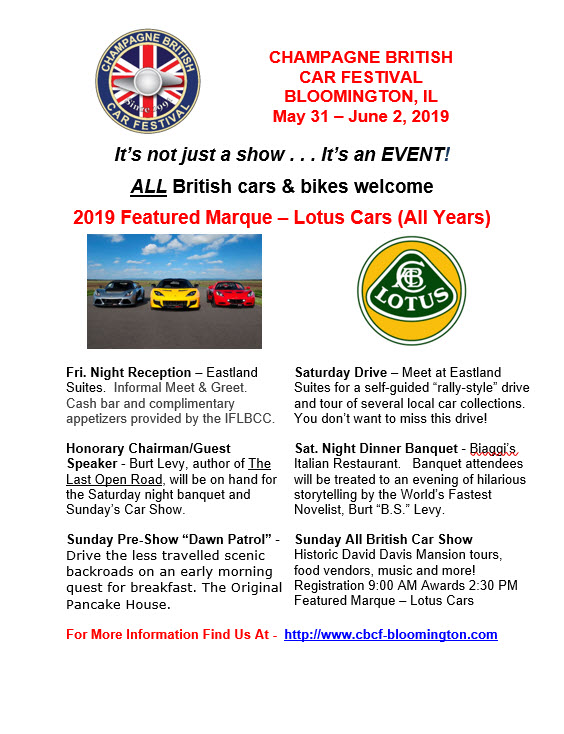 Location
1000 Monroe Drive, Bloomington, IL, USA
Date
June 02, 2019
Registered entrants "Start Your Engines" by joining us Friday evening, May 31, 2019 for a Welcome Reception, sponsored by the Illinois Flat Land British Car Club (IFLBCC).

The fun continues Saturday, June 1, 2019 with a self-guided "rally-style" tour of local car collections, followed by a delicious sit-down banquet at the highly rated Biaggi's Italian Restaurant.

This year's Honorary Chairman and Guest Speaker at Saturday's dinner is Burt Levy. Burt authored The Last Open Road, a story that transports the reader to the summer of 1952 and incredible characters that lead us on one hilarious adventure after another. Burt will also join us for Sunday's show.

A "Dawn Patrol" breakfast drive is planned for early risers on Sunday, June 2. Travel scenic back roads and meet with other cool British car owners before Sunday's show.

Beautiful Clover Lawn at David Davis Mansion in Bloomington, IL is the site of the 28th Annual Champagne British Car Show, Sunday, June 2, 2019. The entire grounds will be festooned with colorful Union Jacks and manufacturer's flags, including such venerable British marques as MG, Triumph, Jaguar and Austin Healey. Lotus cars are the featured marque for 2019.
4 Members Attending this event ↵
Want to add yourself to the list of attendees?
Please Sign In — or Register a new account (it's free!)
event/2102